Just an amendment to anyone who wishes to book onto our course.
All details can be found at https://watermill.net/writing-holidays/writing-holidays-tutor-marks19.php.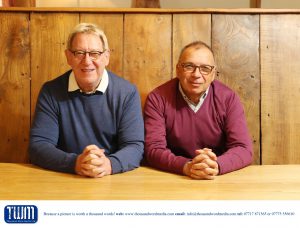 We know you're all desperate to see us in the flesh. Well now you can. We will be talking about our long and mostly glittering career on Sunday July 7 at 4pm, at Sandys Row Synagogue, Spitalfield, East London. It's okay, you don't have to be Jewish to attend. Tickets are £10, from https://www.eventbrite.com/e/blokes-of-a-feather-an-afternoon-with-marks-and-gran-tickets-62639328919?aff=ebdssbdestsearch
Sandys Lane is the oldest working synagogue in the East End, and all money raised will go to the synagogue to help with renovations and much needed repairs.
Why should you come? Well, we don't like blowing our own trumpets so let us quote Sandys Lane's press release instead:
In 2015 multi award winning writers Laurence Marks and Maurice Gran were endowed the Living Legends of Comedy trophy. Another accolade to add to their collection. Presented for almost forty years of making this and other nations laugh, they are one of the most successful comedy writing partnerships in the history of television.
Their canon includes the massively popular and critically acclaimed comedy-drama Shine On Harvey Moon, to the smash comedy hits Birds of a Feather, The New Statesman, and Goodnight Sweetheart (to become a stage musical in early 2020).
If there is a common theme in their work it is the London they knew and were introduced to as children; the East End. Their Jewish characters are legion, from Dorien in Birds of a Featherto Frieda and Erich Gottlieb, Harvey Moon's landlords in Shine On Harvey Moon. And their work refuses to shy away from controversy; both their films Mosley, and Wall of Silence– the story of a brutal murder in the Chassidic community of Stamford Hill, where the community refuse to open their doors to a police investigation, caused mayhem in the national and Jewish press alike, with Maurice and Laurence subject to serious death threats.
On Sunday, July 7, Laurence and Maurice will talk all about their work, perhaps focusing on the Jewish component, the East End of their parents' childhood, and why they opted for comedy in the dark and forbidding world of Thatcher's Britain. Film excerpts will be shown and questions will be answered.
As the Beatles once said: "A splendid time is guaranteed for all".
We hope you can all make it and we look forward to meeting you at this old, historic building.
We're back! The last time we blogged, in September, we wrote optimistically about our hopes for a new series of Goodnight Sweetheart. As most of you know, the collective wisdom of the BBC was that they already had enough funny comedy shows and needed more of the other sort. When we got stroppy they sent the TV detector vans round, and as neither of us had a TV licence we were sentenced to a year in an open prison, with no Netflix or toilets. We've just been released, although the tags on our ankles are playing havoc with our tailoring.
While we were in Strangeways, we had time to think about the insanity that was sweeping through the world (Brexit, Trump, The Nightly Show) and how we could exploit the mayhem for fun and profit. As we shuffled around the exercise yard, it occurred to us that only one man could make sense of the chaos – Alan B'Stard. But sadly Alan died several years ago in a mid-air sky-diving orgy. Then we discovered that as a keen sperm donor throughout his life, Alan had at least one grown-up descendent, Arron, as brilliantly warped as his father. Furthermore, he had just bought the prison and was due to visit the following week.
We managed to get a meeting with Arron, who was flattered when we asked him if he'd let us turn him into a television comedy series. He made only one demand; He wanted all the money, credit and rights to the show. We agreed immediately, and he signalled to his bodyguards to reholster their weapons. Now all we had to do upon release was find a television company brave enough to let us put the truth out there; that all the problems of the world are the result of Arron's manipulations and devilry. Although Arron is notoriously private, he allowed us to leak the news of his existence, which led to an immediate barrage of press interest.
When we came out of Strangeways there were so many journalists and photographers we looked around to see if Rolf Harris had been released with us. But no, it was Marks and Gran they wanted to interview, desperate to learn more of the man behind North Korea's nuclear missiles, Marine Le Pen's makeover, and The Nightly Show. So we gave several "exclusives" to the slavering hacks, one of which – exclusive not hack – will feature in this Saturday's Guardian Guide magazine.
And now we've got to go and hide, because we've just seen Diane Abbot walking up the drive, accompanied by 250,000 policemen. We definitely should have bought those TV licences.
Well, what an astonishing reaction to the new one-off episode of Goodnight Sweetheart. We could never have dreamed that we would be overwhelmed by such a positive response, with hundreds of emails, text messages and tweets asking us whether we are going to continue the story of the most bizarre life of Gary Sparrow. Even the Controller of Comedy at the BBC described the reaction to the programme as "extraordinary".
So where does Gary Sparrow go from here? After 17 years he has by a freak of physics found his way back to the future and it isn't a place in which he feels comfortable. When we were writing this first chapter of the new Goodnight Sweetheart we didn't fully realise just how much the world had changed since 1999, when Gary last visited. Indeed, there have been greater changes between 1999 and 2016 than there were between 1993 and 1940, when Gary first realised he was possessed of the gift of time travel.
If the BBC ask us to write a new series we shall have to consider the many problems – or "issues" as they are now referred to – that will face Gary Sparrow. Each day the Beatles' fame draws ever closer; in the future Gary must come to terms with the daughter he never knew he had. We have much to ponder and ponder we shall once we get the "go ahead" from the BBC.
These could be exciting times for all you Goodnight Sweetheart fans out there (or "Sweeties" as many like to be known), and for us too, sitting writing new adventures in which Gary and his friends will be involved.
Let us leave you with an enormous and hearty thank you for being such an enthusiastic audience and let us hope that 2017 offers you more of what it is clear that you want.
Well, we promised we would let you all know where to go for tickets to see the recording of the new Goodnight Sweetheart, and here we are as good as our word. We can say though, that the demand is overwhelming, so get in quickly.
The recording is on the evening of Sunday, August 14, at the BBC Studios, Salford Quays, Manchester, but we believe it will be well worth the journey…and just think how far Gary Sparrow has travelled to be with us. I mean, can you imagine just how long it has taken him to arrive from 1945?
So go to www.sroaudiences.com and you might be able to join us, Gary, Yvonne, Phoebe, Reg Deadman and Ron on another time-travelling adventure.
We look forward to seeing you.
We've had dozens of emails asking us about ticket availability for the recording of our new Goodnight Sweetheart episode next month. Here, as promised, are the details.
The show will be recorded on the night of Sunday, August 14, at the BBC's new Salford Quays studio, Manchester. Applications for tickets should be sent to [email protected]
We must point out that the studio only has room for an audience of about 200, so if you want to be there, apply as soon as possible. And the best of British luck.
We hope to be able to announce cast details in the next few days, and we'll try to keep you all abreast with developments in Sweetheart-land.
So another busy year has come to an end. We've made a series of Birds of a Feather, done Desert Island Discs, and been declared Living Legends by the British Comedy Society. On the personal front, Sophie has passed her Grade 6 flute, Marley (see photograph above) has excelled at dog obedience classes, and David Cameron still hasn't returned our lawnmower. So much for Tory promises.
Upcoming events include a special "Dreamboats and Petticoats Christmas Party" at the Broadway Theatre, Peterborough, running from December 22 -27 – although the producers have reluctantly given the cast Christmas Day off. Pop in if you're passing. If you haven't been to Peterborough you haven't lived.
The new series of Birds of a Feather starts on ITV, we think in January. They haven't told us the exact date, we're only the writers, but it's being promoted during ITV's ad breaks, which we think is a clue.
Finally, we're proud to announce that Save The Last Dance For Me, our musical based on the songs of Doc Pomus and Mort Shuman (His Latest Flame, Sweets For My Sweet, Can't Get Used To Losing You, and of course Save The Laat Dance For Me), will start its new tour in the spring of 2016.
And come mid-January we embark upon many exciting projects, including a new stage play, a drama series, and perhaps two new television comedies. But we shall keep you all informed and up-to-date with our writing progress.
Happy Christmas and a Merry New Year.