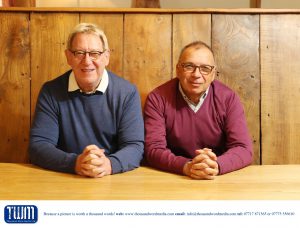 We know you're all desperate to see us in the flesh. Well now you can. We will be talking about our long and mostly glittering career on Sunday July 7 at 4pm, at Sandys Row Synagogue, Spitalfield, East London. It's okay, you don't have to be Jewish to attend. Tickets are £10, from https://www.eventbrite.com/e/blokes-of-a-feather-an-afternoon-with-marks-and-gran-tickets-62639328919?aff=ebdssbdestsearch
Sandys Lane is the oldest working synagogue in the East End, and all money raised will go to the synagogue to help with renovations and much needed repairs.
Why should you come? Well, we don't like blowing our own trumpets so let us quote Sandys Lane's press release instead:
In 2015 multi award winning writers Laurence Marks and Maurice Gran were endowed the Living Legends of Comedy trophy. Another accolade to add to their collection. Presented for almost forty years of making this and other nations laugh, they are one of the most successful comedy writing partnerships in the history of television.
Their canon includes the massively popular and critically acclaimed comedy-drama Shine On Harvey Moon, to the smash comedy hits Birds of a Feather, The New Statesman, and Goodnight Sweetheart (to become a stage musical in early 2020).
If there is a common theme in their work it is the London they knew and were introduced to as children; the East End. Their Jewish characters are legion, from Dorien in Birds of a Featherto Frieda and Erich Gottlieb, Harvey Moon's landlords in Shine On Harvey Moon. And their work refuses to shy away from controversy; both their films Mosley, and Wall of Silence– the story of a brutal murder in the Chassidic community of Stamford Hill, where the community refuse to open their doors to a police investigation, caused mayhem in the national and Jewish press alike, with Maurice and Laurence subject to serious death threats.
On Sunday, July 7, Laurence and Maurice will talk all about their work, perhaps focusing on the Jewish component, the East End of their parents' childhood, and why they opted for comedy in the dark and forbidding world of Thatcher's Britain. Film excerpts will be shown and questions will be answered.
As the Beatles once said: "A splendid time is guaranteed for all".
We hope you can all make it and we look forward to meeting you at this old, historic building.