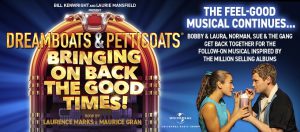 They said it couldn't be done. But we've done it. The third instalment of Dreamboats and Petticoats – Bringing On Back The Good Times – opens this week at the Theatre Royal, Windsor. Good Times features all the much-loved characters from the previous Dreamboats shows, in a brand new adventure featuring great songs from the heyday of 1960s pop music.
Some of the actors and musicians have been with Dreamboats since the very first show back in 2009. Some of them don't look as if they were born in 2009. Rejoining us this year is veteran teenage-heartthrob Mark Wynter, and making his D&P debut is our old friend David Benson who was such a memorable Noel Coward in Goodnight Sweetheart.
Not since the premiere of Shakespeare's Henry VI Part Three has there been such a delightful culmination to a theatrical trilogy, and Henry VI Part Three didn't have 'Hang On Sloopy' 'Make It Easy On Yourself', 'Baby Now That I've Found You', 'Stop In The Name Of Love', and 'The Clapping Song', although the First Folio version of Shakespeare's history play did contain a snatch of 'I've Got You Babe', sung by Charles, King of France, and Joan of Arc.
Talking of Shakespeare, we were hoping the merry wives of Windsor would grace our production with their presence, but unfortunately Her Majesty the Queen is little under the weather, Catherine, Duchess of Cambridge, is playing lacrosse, and Camilla won't go anywhere with a no smoking policy.
Bringing On Back The Good Times is produced and directed by the inimitable Bill Kenwright, and after Windsor will embark on a national tour that should last well into the summer, although there is some doubt at the moment about the Ukraine leg.