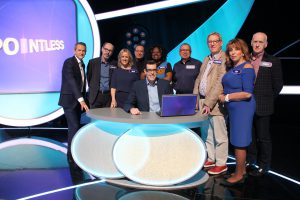 It seems months ago that we were contestants on BBC1's Pointless Celebrities because it was. It was back in May that we returned to Elstree Studios, the home of some of our biggest successes. Our company ALOMO Productions had its offices at Elstree, and Birds of a Feather, Love Hurts and Goodnight Sweetheart were all produced there. Elstree is now the home of some huge movie franchises, and of Pointless, which is soon to chalk up its millionth episode.
Pointless Celebrities, which often features people you've heard of, has become a surprise Saturday night hit for the BBC, so we felt honoured to finally be invited onto this show. It was incredible to be collected in a private helicopter and given a £5000 clothing allowance. You'll see from the accompanying photograph that we spent almost none of the clothing allowance on clothes.
Our fellow celebrities included several best-selling authors, one worst-selling author, and a newspaper editor who forgot her contact lenses and couldn't really see the board. They were all good company, as was our host, the tall and urbane Alexander Armstrong, and Osman, his taller and witty butler.
We had done a great deal of preparation, swotting on our specialised subjects, Pre-Christian Armenian Architecture, and Prince Philip's Contribution to International Diplomacy. Unfortunately, we had completely misunderstood the rules of the game, so our revision was indeed pointless. Instead, we were asked…No, we shan't spoil it for you, except to say that the sharp-eyed among you may spot the leopard that escaped from the nearby Indiana Jones closed set, and which Osman had to strangle with his bare hands, which are massive.
You can see all this and more on Saturday, November 9, at 6pm on BBC1.