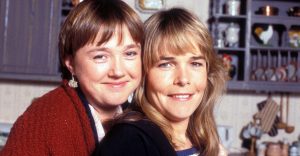 Nowadays, one of the best ways of breaking into comedy is to appear at the Edinburgh Fringe Festival. Many an obscure young stand-up has been catapulted to relative stardom on the basis of half an hour in a sweaty Edinburgh back room – but enough about chance meetings with Harvey Weinstein.
Of course, we are not obscure young stand-up comics; we are famous old sit-down comics, who ply our trade at the keyboard, allowing the actors to enjoy the applause and the laughter – or the abuse and scorn – of the audience. Yet this summer, we will be at the Fringe. We're not performing. We're not mad! But we will be portrayed in a one-act play we've written, entitled EARLY BIRDS.
EARLY BIRDS tells the unlikely, dramatic, and entertaining story of how Birds of a Feather was conceived, almost thirty years ago, which is why two of the leading characters in the play are called Laurence Marks and Maurice Gran. We hope we've captured the spirit of these two gifted young men, and that they will not be offended by their portrayal. However, the focus of EARLY BIRDS is on the Linda Robson and Pauline Quirke of 1988, two life-long friends still climbing the foothills of television and about to get their big break.
When we created Birds of a Feather we attempted to write a show that was honest and direct in speech and attitude. As a result, on the night of the first transmission, the BBC switchboard was almost overwhelmed with complaints of saucy language and sexual behaviour, and we were summoned to appear on breakfast television to defend our baby. We were only saved from cancellation when…
Well, if we tell you, you may not trek up to Edinburgh to watch Early Birds at PQA Venues @Riddle's Court, 322 Lawnmarket, from August 3 to August 27, and that would be a shame (but if you can't get to Edinburgh, the TV show was saved by its massive viewing figures).