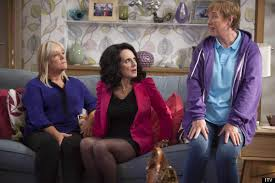 A belated Happy New Year to all our followers and to the 12.4 million people we're told watched episode one of Birds of a Feather on January 2. "Wow!" said ITV, who had been criticised in some quarters for taking over this tired old format from the Beeb, who liked the script we offered them, but decided on balance that revivals didn't work on BBC1. We took the show to ITV, who metaphorically bit our arms off. BBC commissioned a new series of Poldark,
Please forgive us for feeling a bit pleased with ourselves at having ITV's biggest comedy hit this Millennium. We're not grabbing all the credit. The cast, especially our leading ladies, did us proud. As did fellow writers Lawson & Phelps, both directors, the producer, and last but not least Retort, the production company. We know this sounds like a Bafta acceptance speech; may as well make it here. We doubt we'll win one, the show's too popular, rather than cutting edge and sweary.
Episode five of eight goes out on Thursday – how the weeks fly by. It's called "Tattoo You", and we wrote this one. Incidentally, nobody seems to have noticed yet that every episode of the series borrows its title from a Rolling Stones track. No reason, we just like the Stones.
We hope and sort of expect that ITV will commission another series for 2015. Which legendary rock band's catalogue shall we ransack for titles next? Any suggestions? We already did the Beatles; maybe The Who? Episodes could be called "I Can't Explain," "I Can See For Miles" and our agent's favourite song "Won't Get Fooled Again."