As well as a summer of writing, for Laurence and Maurice it has been a season of teaching too. In August we gave a week long comedy writing course at the Arvon Foundation, in Devon, and two months earlier Laurence was invited out to Italy to give a comedy masterclass at the Watermill in Posara, Tuscany.
During beautifully warm summer days and evenings, beneath the Tuscan hills, Laurence taught 10 students the rudiments of writing comedy for the stage, TV, big screen and radio. Each evening was spent in front of a screen, where illustrations of what was taught during each day were shown. Films and Lemoncello, a delicious Italian liqueur, seemed to send everyone into the night in a good and comic frame of mind.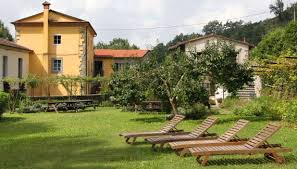 The students immediately bonded and a very special time was had by all. So much so, that Laurence has been invited in September 2014 to return and rather carry on from where he left off.
Details of what to do should you wish to join the week long course – should places be available – can really be found by visiting the link
http://www.watermill.uk.net/blog/?p=4952
What was really interesting during the week in Tuscany was the sudden realisation of just how difficult writing comedy can be, though everyone agreed that they definitely left the Watermill far better writers than when they arrived, and that alone assured them that it was money well spent.
If you are interested or have a burning desire to learn to write television comedy, well, let's get together in Italy next September.