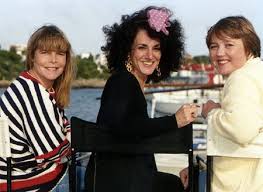 Thank God! The news is out. We've been sitting on Birds of a Feather for weeks, and it's been pretty uncomfortable, especially Lesley Joseph's stilettos. But now The Sun has leaked the story, we're happy to confirm it; there will be a new series of BOAF – the tenth – on your TVs, early next year.
The big surprise is that the show will be on ITV, which is both exciting and challenging. It's exciting because we'll be part of ITV's campaign to challenge BBC's dominance of situation comedy; challenging because an ITV half hour is less than 23 minutes long, and it's a lot more difficult to pack thirty minutes worth of mirth into such a short span. But we, together with co-writers and pals Gary Lawson and John Phelps, are determined to rise to the challenge, as Dorien would no doubt say.
To be honest, we are nearly as surprised as you (you are, aren't you?) that the Birds are flocking to ITV after 106 odd shows on the Beeb. But the BBC, in their collective wisdom, have a general policy of not reviving old shows, unless they involve Time Lords. The Controller of BBC1 liked the script enought to offer us a Christmas Special slot, which was flattering. But we felt, and feel, that there's life in the old bats yet, and wanted to write a series.
The BBC graciously allowed us to offer the project to other channels, although we suspect they were a tiny bit gobsmacked when we sold it to ITV, rather than to Gold or Channel Five! Peter Fincham, the man who runs ITV, doesn't look very much like the bloke from Del Monte, but it only took him fifteen minutes to say yes to a series of eight episodes, and he didn't even want to squeeze our oranges first.
We wouldn't be so confident the new series would fly if it wasn't for the riotous success of the live stage tour. The current national tour has two more weeks to go – Bromley this week, York next – and everywhere Linda, Pauline and Lesley have gone they've been overwhelmed by the audience's affection and enjoyment. Like the stage show, the new TV series will take place very much in the present day: Tracey now has a teenage son, as well as her beloved Garthy; Sharon is still ducking and diving, when she's not on Facebook; and Dorien's life has taken an unexpected, but not unpredictable, turn…
To get you in the mood, we're told the original BOAF will rerun in full on Gold this summer, so those of you nostalgic for shell suits and big hair will be able to get your fill.